All you need to know about Thermage treatment.
Thermage is the pioneer of non-invasive skin tightening. It's unique technology of monopolar capacitively coupled radiofrequency (RF) enables volumetric heating much deeper than lasers. It can penetrate the dermis and into subcutaneous tissues to firm up existing collagen and stimulate new growth. In addition to tightening, this deep penetration helps to slim down the silhouette, especially flab-prone areas like double chin, cheeks, tummy and arms. The top-down heating profile also addresses superficial skin problems like wrinkles and pores, improving skin texture. Unlike lasers, the superior heating technology of Thermage makes it a one-time procedure, lasting an amazing 2-3 years!
These days, there are so many skin tightening devices in the industry. I have tried many variants of bipolar radiofrequency, cavitation, infrared light… but none safely delivers the levels of energy as Thermage can. Clinical studies show up to 4 times more therapeutic heating by Thermage, compared to current technologies! In other words, Thermage still produces the most dramatic and lasting results.
The Thermage Journey
Since its launch in 1995, Thermage has withstood the test of time. Technology so often burns brightly, transiently, and then gets replaced by the next new upstart. (Just look at how I have to change a new iphone almost every year!) So what makes Thermage different?
Thermage is backed by strong research and development, continuously improving its safety and effectiveness. To be perfectly honest, I was never a huge fan of Thermage until the latest generation Thermage CPT (Comfort Pulse Technology) came along. This new platform incorporates vibration with cryogen bursts and pulses of RF, making it so much more comfortable. The tip design and software has also been upgraded to deliver more uniform heating. The new larger body tip contours almost anywhere in the body faster. All this translates into much better results, more uniform tightening, with virtually painless treatments.
Which Is Better? Thermage CPT Or Ulthera?
I get asked this very often. While both are giants in the industry, they work in different ways. Thermage treats the skin from top down using radiofrequency waves; while Ulthera rejuvenates the skin from inside out with focused ultrasound energy. Thermage CPT treats all the problems in the skin – texture, wrinkles, firmness; while Ulthera tightens even deeper layers like the SMAS to give a lift against gravity. As a matter of fact, the 2 treatments work synergistically. So do both (budget-allowing), for a 3-dimensional non-invasive facelift. At different times of course.
Thermage CPT is safe to perform alongside other energy-based devices like IPL and lasers, once the skin has settled. B*tox and Fillers are especially useful to further smoothen wrinkles and re-volumize hollowed areas, thus creating a more enhanced facelift.
When Should I Do This?
I often tell my patients not to wait until your skin has gone south before you start treatments. Anti-ageing procedures are best done preemptively, before skin loses all its collagen. That way, your youthfulness will be maintained. Once the skin sags and loses elasticity, it will be much more challenging to restore it to its former glory.
For more information on skin tightening and face lifting, contact Dr Phoon – phoonys@davidloh.sg or call us at +65 67339114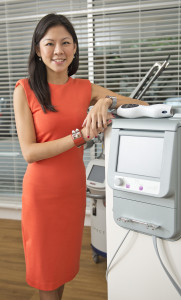 Nuyou Jan 2014