HAIR TRANSPLANT
Hair Restoration Surgery
A full frontal hairline frames the face and brings out masculine attractiveness. Hair transplant surgery is usually the treatment option when results with Propecia, minodixil and low level laser therapy are not satisfactory enough. It is also the best option for restoring a receding frontal hairline as Propecia usually does not work well on the frontal hairline. Nowadays, even younger men in early stages of male pattern hair loss choose hair transplantation, on top of medical treatment, to restore the frontal hairline.
DONOR DOMINANCE
Hair transplants rely on the principle of "Donor Dominance". The pioneers of hair transplant surgery, realized in the 1950s that when hairs from the hair loss resistant areas of the scalp were relocated to the balding parts, they retained their original qualities and flourished, regardless of where they were transplanted.
Of course, techniques have been refined over the years and transplanted hair nowadays are natural-looking. And survival rates have also improved due to advanced Robotic used in extracting the follicle units.
Donor Hair
Extracting donor hair in a pain-free manner without damaging other surrounding hair (as donor hair supply is limited) and leaving an almost invisible wound
Hair Survival
Ensuring the best survival of the donor hair throughout the surgery
Hair Transplant
Implanting the donor hair in a natural, aesthetically pleasing manner iv.proper pre-operative and post-operative care and treatment Thus, successful hair restoration surgery depends on the right tools, the right methods/protocols, the right hands and in a highly optimized setting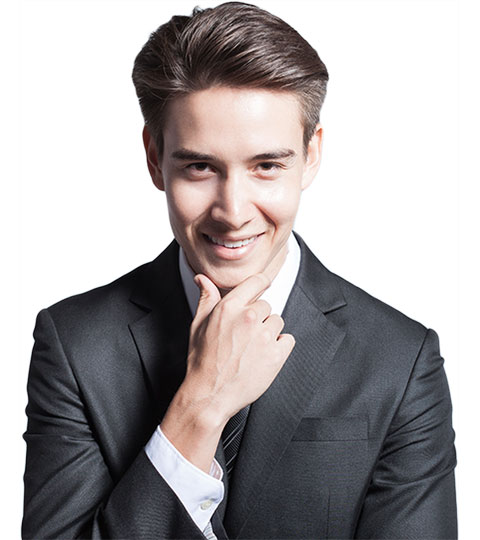 SURGERY
PROCESS
Hair Transplants involve extracting hair follicular units from the hair-loss resistant areas of the scalp (usually the back and sides of the head). These are then grafted onto the desired parts of the scalp. The procedure only requires local anaesthesia. There is no risk of rejection as the patient's own donor hair follicles are grafted.
With the ARTAS Robotic system, the highly delicate and meticulous task of extracting follicular units is automated to improve the quality of the grafts.
The implantation of the grafts (which direction and what density) is still done by the surgeon.
Read more about the artist (doctor) who designs the hairline.
POST-OPERATIVE
FOLLOWUP
The donor wounds takes around 5 to 7 days to heal and the length of downtime depends on one's job duties with some patients can go back to work the next day. They are advised not to take part in any vigorous exercise for 2 weeks postoperatively. Full growth of the transplanted hairs are expected in three to six months.
Visit us, restore both your hairline and confidence today!
Call our Liat Towers Clinic
(+65) 6733 9114