Radiesse is a versatile dermal filler with a unique triple effect of filling, lifting and skin rejuvenation "all in one syringe".
Radiesse is not made of hyaluronic acid (non-HA). Instead Radiesse is made of microscopic calcium particles suspended in an gel carrier. When injected, Radiesse immediately adds volume to areas like the sunken cheeks, as well as to improve facial contours.
What is special about Radiesse is that it continues to signal to your body to produce its own natural collagen, so that over time, wrinkles and fine lines are smoothened out and there is natural tissue lifting.
Radiesses was FDA-approved for treating moderate to severe wrinkles and folds in 2006, and it is the first and only dermal filler that was FDA-approved for hand rejuvenation to correct volume loss and skin laxity on the back of the hands.
It has been safely used in over 6 million treatments worldwide in over 57 countries.
R
adiesse is used commonly to treat the nasolabial folds, nose, chin and the jawline. The filler material's unique gel properties (technical term: rheology) means it can be precisely placed into the treatments areas giving volume and projection, and yet can be moulded easily by the injector doctor.
R
adiesse stimulates your body's natural ability to produce collagen through a process called bio-stimulation. After injection, the Calcium Hydroyapatite (CaHA) microspheres form a biological "scaffold", providing mechanical stimulation to fibroblasts, which in turn produce collagen. The new collagen act like strategic "struts", adding strength to facial ligaments; or it volumizes facial compartments, to provide a lifting effect on the face.
This is ideal for patients who want to achieve an lifting effect using only dermal fillers.
B
ecause of its unique ability to induce collagen growth, it can also improve skin quality by increased amounts of collagen and elastin in the skin, hence smoothening wrinkles and brightening skin tone.
THE RADIESSE
PROCEDURE
Just like any other dermal filler procedure, it can be done as a lunchtime fix. Your doctor may apply topical numbing cream prior. Because of added local anaesthetic (lidocaine), the inject process is relatively comfortable. The injection takes 10-30mins depending on the extent of the treatment.
Radiesse can be injected using fine needles, or blunt cannula.
Most patients can resume normal activities immediately. Some experience mild swelling and localised soreness for a day.
RADIESSE BODY TREATMENTS
Because of its bio-stimulation properties, Radiesse has been used successfully in acne scar reduction as well.
Beyond the face, there are a myriad of body applications for Radiesse.
Radiesse is used for hand rejuvenation, smoothening neck lines, improving skin laxity in the décolletage, upper arms, above the knees, post-delivery loose skin in the abdomen etc.
The price for Radiesse is $1,500 per syringe. Body treatments often require multiple syringes.
SAFETY
A PRIORITY
The common adverse effects of Radiesse fillers are similar to any other dermal fillers – such as bruising, swelling and mild pain. These side effects usually resolved within a few days.
Rarely, serious complications which include skin necrosis, blindness and strokes have been reported. These are preventable through a thorough understanding of the anatomy of the face, and by adopting good injection techniques.
With safety utmost on their minds, Dr David Loh and Dr Phoon Yi Shan have published their instructional piece for doctors on their filler injection techniques in the Prime International Journal of Aesthetic and Anti-Ageing Medicine in 2018. 
They have also published on the management of filler complications, one of the papers had won the Best Paper Award 2019, from the Plastic and Reconstructive Journal PRS Global Open.
DR DAVID LOH
One of the Pioneers of Aesthetic Medicines in Singapore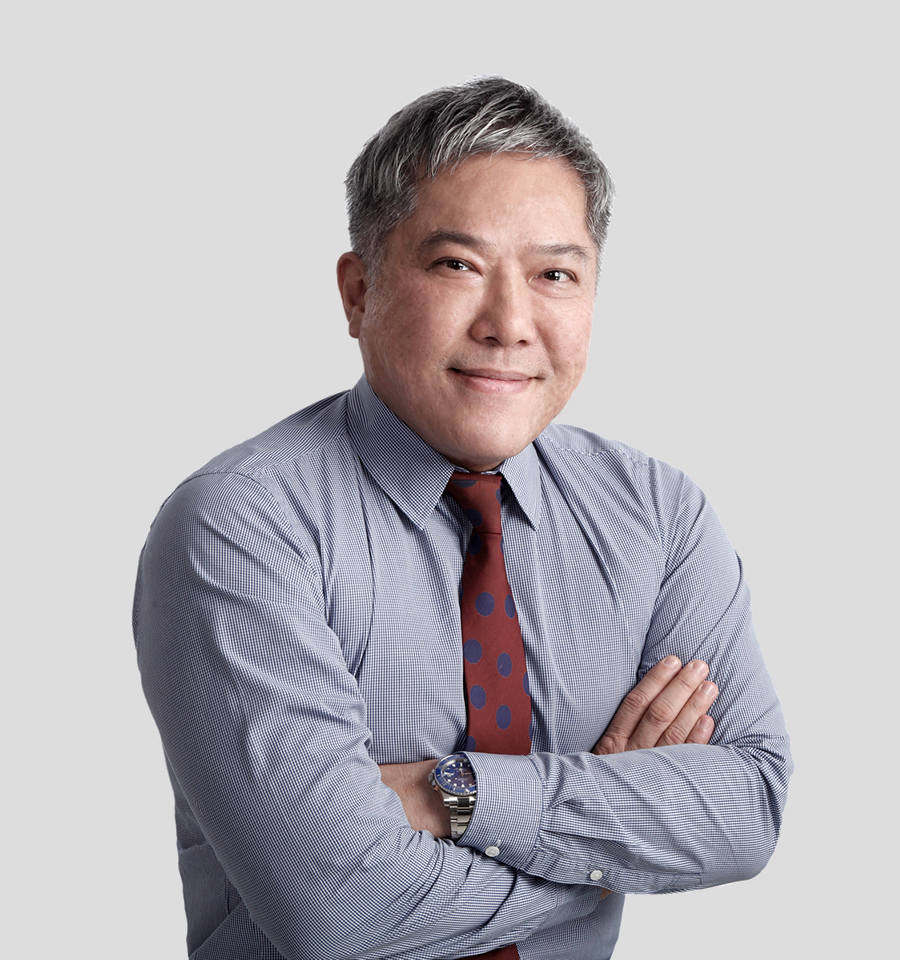 Dr David Loh
Founder
Dr David Loh founded David Loh Surgery back in 2002 when Aesthetic Medicine as a field was still in its infancy. He obtained his basic medical and surgical degree from the National University of Singapore. He has 30 years of working experience, 18 years of which were in aesthetics. He is MOH-accredited to perform office -based Liposuction. He is perhaps best known for being a trainer for B*tox and Fillers in the region. He is the President of The Society of Aesthetic Medicine in Singapore.
Find out if Radiesse, a bio-stimulation filler, is useful for you
Call +65 6733 9114 or email us.