Laser Genesis is a totally non-ablative (and painless) procedure that works by warming up the skin to trigger a release of chemical mediators from blood-vessel walls that signal to the skin to build collagen.
It is designed to complement the effects of other treatments like
Ulthera
or
Thermage
in a 3D Effect where the different depths of the skin are dealt with respectively by:
IPL (outer skin's pigmentary-changes),
Laser Genesis (mid-depth collagen stimulation ) and
Thermage (deep tissue heating and skin tightening).
Titan as a non-surgical facelift is now eclipsed by Ulthera, the ultrasound guided SMAS Lift.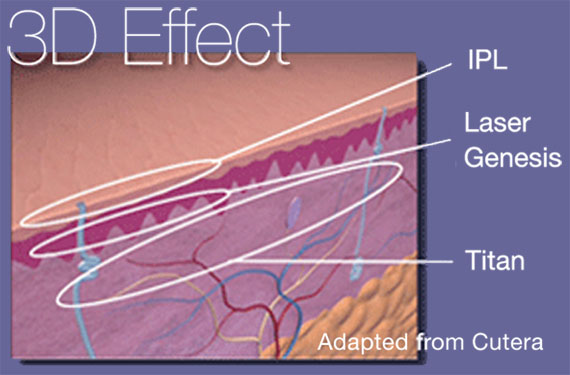 WHAT LASER GENESIS IS
Laser Genesis is actually a long-pulsed Nd-Yag laser which is normally used to treat veins and remove hair. Through a clever software upgrade, the laser can now fire at high repetitions and very low energy levels. The laser hits the skin causing capillary walls to release chemical mediators that sends signals to the skin to produce more collagen. Very clever indeed. Furthermore, Laser Genesis is totally painless! The treatment feels like warm sun-shine on your face.
Laser Genesis is useful for the occasional boost to the skin in between your yearly sessions of Ulthera or Thermage.