THE NEWER

THREAD LIFTS

Thread lift is a minimally invasive procedure which addresses the main concerns in an ageing face­‐sagging skin, as well as deepening folds and lines. Using 100% bio-absorbable threads, strategically placed under the skin, we can achieve two combined benefits:
An

instant lifting

and

tightening

effect

.

As soon as the thread is applied, the doctor gently compresses and elevates the tissue, lifting and re-contouring your face. Sagging cheeks and jowls are immediately lifted, and loose wrinkly skin is tightened, giving you a more youthful visage.
Continuous

natural

rejuvenation

The thread components act from within, and stimulates regeneration of your own collagen and hyaluronic acid over the next 6-8 months. Your skin gradually regains elasticity and volume is restored to the face.
HOW ARE

THREAD LIFTS

DONE

Unlike the traditional surgical facelifts, thread lifts do not involve the use of a scalpel. It is a mere 30 minute procedure (hence also dubbed 'lunchtime lifts'), with hardly any recovery time. These threads safely disappear after 6-8 months. During the natural resorption process, your own collagen production is enhanced, leading to anti-ageing benefits beyond 18 months. One or more threads may be applied to each area, depending on the lift that you desire.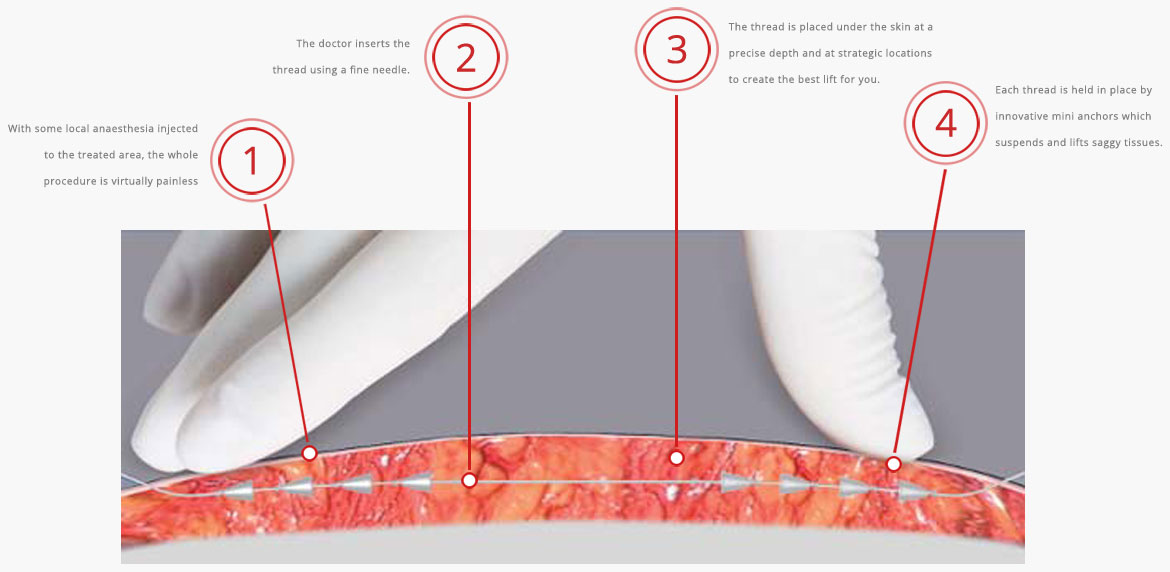 What Can I Expect After
The Thread Lift
Threadlifts give you real, but natural looking results. Benefits include
Firmer, tighter skin, with improved texture
Smoothened out lines and wrinkles
Lifted, fuller cheeks and cheekbones
More defined jawline, with less droopy heavy jowls
Browlift, with less eyelid hooding. Eyes look bigger and more refreshed
Results can last up to 18 months. You can further enhance the results of your threadlift by combining with other non-invasive skin tightening procedures like Thermage or Ulthera.
Yes
We use high quality threads which have been approved and safety marked such as Silhouette Soft or APTOS Threads. They are naturally biocompatible and fully absorbable. Components include polylactic acid (PLA), polydioxanone (PDO) or caprolactone which have been used for many years in various pharmaceutical and medical applications such as sutures, stents, orthopaedic pins etc. As with any cosmetic treatment, slight swelling or bruising may occur, which will resolve within a few days. Sometimes there may be slight wrinkling of the skin (which is required for optimal results), which will disappear over a few days.