Dr David Loh teaching in various Asian countries
I
f he is not busy treating patients an his Wheelock Place clinic along Orchard Road, Dr David Loh travels to teach doctors throughout the region. In fact, Dr David Loh has trained a generation of doctors on the art of administering
B*tox
and
facial fillers
since 2006. Some of his trainees are now experts in the field themselves.
Back in 2006, he was appointed as one of the original trainers for the Restylane range of HA fillers. This was when Q-Med still owned the Restylane brand. And there was only Restylane and Perlane. Q-Med was the only serious filler manufacturer at that time. Of course in the years since, Q-Med was acquired by several parties and it is now owned by Galderma. And Allergan has since risen to also be a global player in the aesthetic field. It too was a target of mergers and acquisitions. Despite all the upheavals in the industry, Dr David Loh remained steadfast in honing his skills and techniques with some of the best in the industry from Australia, Brazil to France (You know who you are!).
Dr David Loh has worked closely with Allergan since 2009, and is now a faculty member of the Allergan Academy. The Allergan Academy formalises B*tox and facial fillers training for doctors progressing from basic to advanced levels.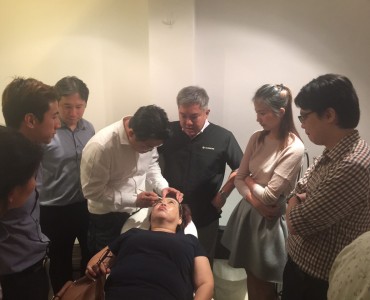 Beyond the Allergan Academy, Dr David Loh also works closely with Galderma in China to impart his facial fillers injection techniques and artistry. He has lectured at the 1st People's' Army General Hospital's plastic surgery conference in May 2014, and at a major national plastic surgery (3rd MIAPSD) conference in Shanghai in September 2014.
He works closely with hospitals in Changsha, Guangzhou, Shenzhen and Dongguan to elevate their standards of practice, at least where filler injections are concerned.
Registered to practice Medicine in The People's Republic of China, Dr David Loh held regular visiting-expert sessions at a hospital in Shenzhen in 2013-2104. "Full face makeover with just Fillers" was his area of special interest, often drawing large crowds.
Besides China, Dr David Loh has also trained doctors in Jakarta and Bali in Indonesia on B*tox and Fillers. Dr David Loh lectured on micro-focused ultrasound at the SWAM conference in Jakarta in 2015.