The excessive enlargement of breast tissues in a male patient is called gynaecomastia.
Accumulations of fat in the chest are that mimic the appearance of breast some obese male patients are called pseudo-gynaecomastia.
It important to differentiate between real and pseudo-gynaecomastia, because the treatments are different.
HOW TO DIFFERENTIATE

"REAL" FROM PSEUDO-GYNAECOMASTIA
 
Pseudo-gynaecomastia
Gynaecomastia
The consistency to touch
Soft like fat.
Firmer (like a pencil eraser was under the skin)
Discomfort

 

None
Sometimes
Nipple changes
None
Sometimes nipples are darker, enlarged and pointier.
History of anabolic steroid abuse

 

No, usual none
Yes, usually
Obesity

 

Yes, Usually
May or may not be related
Related genetic conditions

 

No
Rarely
Related endocrine abnormalities

 

No
Rarely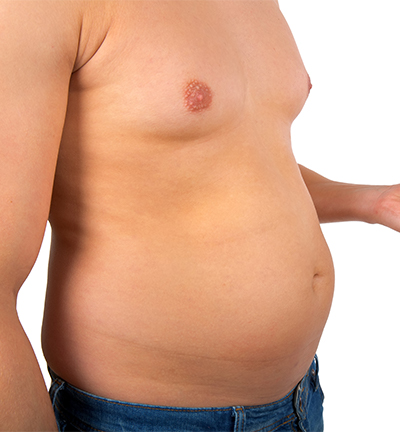 TREATMENT FOR

 PSEUDO-GYNAECOMASTIA

Treatments for Pseudo-gynaecomastia can include non-invasive methods like Coolsculpting, or else Liposuction.

Coolsculpting has the advantage of being non-invasive, non-surgical, lunchtime-fix type of procedure with minimal post procedure discomfort. But the results are mild.

Recovery time for Coolsculpting is practically none. Sometimes there is some soreness which takes 1-2 weeks to subside. Rarely, there may be paradoxical adipose hyperplasia (PAH), which is an unexpected increase rather than decrease in the size of the fats in the treated areas. PAH can be treated with Liposuction.

Liposuction is a minor surgical procedure that involves firstly injecting some local anaesthetic under the skin of the chest. The excess fat is then removed using a special liposuction cannula. The results are instant, definite and obvious. In fact, in using Vaser HD, we can even sculpt muscle shapes out of the fat to give the chest an athletic appearance.

The recovery time for liposuction of the chest (to reduce pseudo-gynaecomastia) is usually a breeze. There will be some swelling and maybe some bruises for about a week, but that never really stops our patients from carrying on with normal daily activities. They can even resume gym on the 3rd or 4th day.
TREATMENT FOR

GYNAECOMASTIA

You can "watch and see" in boys around puberty when they are having hormonal surges. Because the swelling in their chests are usually a temporary passing phenomenon.

For those whose gynaecomastia persists beyond the years, laboratory tests may be needed to investigate if there any rare underlying cause for the persisting hormonal imbalance.

Excision of the gynaecomastia is the treatment in the absence of any rare endocrine disorder, or if there is a history of anabolic steroid abuse – common in the bodybuilding community.

Gynaecomastia excision is done in the clinic (for small cases) or in a day-surgery (for larger cases). Sedation by an anaesthetist may be requested. The procedure involves firstly injecting some local anaesthetic into the chest area. Through an incision which runs halfway around the edge of the nipple, the glandular tissue under the breasts are removed. The wound is then sutured, and a compression garment applied for a few days.

The results are instant, but the swelling and bruising will take up to 2 weeks to subside.
Call us on +65 6733 5300 to find out more about Gynaecomastia Excision. Or email us.